Message from Susanne Millar - Partnership Matters - November/December 2021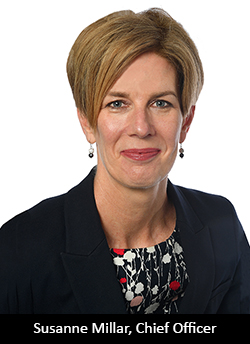 We've been celebrating here in the Health and Social Care Partnership (HSCP) with our Homeless Health and Asylum Service (now called Complex Needs and Asylum Health Services) winning this year's People's Choice Award at the Scottish Health Awards 2021 on 4 November. We kick off the November / December issue of our Partnership Matters Briefing featuring their win. The service was one of six finalists with the winner decided by a public vote.
The service provides health and social care assessment and treatment to some of the most vulnerable and complex patient / service user groups in Glasgow. At the start of the COVID-19 pandemic, the service changed its model of delivery away from clinics to outreach and more face-to-face contact.
During the pandemic, Glasgow accommodated over 600 newly homeless people in hotels while dealing with ongoing pressures in finding homes for asylum seekers.
The team established a daily health care clinic including a response to complex wound care and a new patient clinic offering same day access to assessment and treatment. The team delivered over 200 flu vaccinations in 2020, over 300 Naloxone supplies and 300 pay as you go mobile phones to service users.
A COVID-19 vaccination programme was also delivered, in conjunction with commissioned services, across 50 Homelessness and Asylum accommodation sites. This resulted in over 550 first dose vaccinations with a further schedule of over 370 second doses vaccinations administered equating to over 70% second doses captured.
I would like to express a huge congratulations to the team for taking home the People's Choice Award. This is not only a big win for the team and our Partnership but has been a big win for Glasgow in that it reflects all of our continued efforts to support the health and social care needs of some of the most vulnerable people in our city during these challenging times. Job well done to the team in winning the very well-deserved award!
We also feature in our briefing how integrated working within our HSCP is improving the outcomes of some of our city's most vulnerable with work between NHS Greater Glasgow and Clyde's (NHSGGC) Sandyford Sexual Health Services (hosted within our HSCP) and our Homelessness and Addiction Services. They were recently featured in the national HIV journal HIV Medicine as an example of good practice for their integrated working in delivering a tailored outreach Pre-Exposure Prophylaxis (PrEP) service for people who inject drugs – to increase their uptake of the new PrEP medication and reduce HIV transmission, where prior to the outreach service the uptake was negligible.
This month we also feature how we'll be further supporting patients and their health and wellbeing in some the most deprived areas of our city with the expansion of the Community Link Worker (CLW) Programme. Forty more GP Practices in Glasgow will now get a CLW to help patients with a wide range of non-medical issues that may be affecting their health and wellbeing.
Our HSCP's website is one of the main ways in which we communicate and keep people up to date, and we're always making additions to it. The Integration Joint Board's (IJB) Audited Annual Accounts for 2020 – 21 were approved at its September 2021 meeting, and they're now published on our HSCP's website. As in previous briefings, we also continue to include recent news articles and upcoming events and meetings, and both are on our website. You can read them by selecting their relevant link.
An update on how we continue to respond to and manage the impact of the COVID-19 pandemic on our health and social care services is also provided, and Dr. John O'Dowd, our Clinical Director, features in our regular Senior Management Team (SMT) video.
Although the situation for COVID-19 has greatly improved since August and our situation is appearing to stabilise, we must remain cautious as we head into the winter months. Case numbers have fallen and are broadly stable just now, which I'm sure you'll agree is welcome news, but over the past weeks there have been reported increases and currently infection rates and patients in hospital within COVID-19 remain high. We're not experiencing a surge in new cases of anything like late August, but as we know from experience, numbers can easily creep up again and new variants of the virus can emerge. We're also seeing how there's been recent a significant increase in COVID-19 cases and deaths in some other countries around us.
COVID-19 is still very much with us, and significant pressures continue across our health and social care system as a result. This is alongside other patient and service user care being delivered, whilst also preparing for wider winter pressures as we approach the flu season.
Given that the situation remains fragile and challenging, it's so important that we don't become complacent and let down our guard. We must continue to do all that we can do to suppress the virus, both individually and collectively. It's important that we take opportunities to get vaccinated, participate in testing, self-isolate when required, continue to wear face coverings as appropriate and follow other Government and Public Health measures. More information about the COVID-19 Vaccination Booster Programme, which is being delivered alongside the flu vaccination, is available on the NHS Inform website.
As we approach the end of the year, roughly 20 months into the pandemic, I'd like to express my immense thanks and deep gratitude to our HSCP staff – for what they do and who they are. Their unequivocal dedication and commitment have been a constant throughout these hugely complex and challenging times since the pandemic began to really impact all of us at the end of March 2020. We simply couldn't have supported our most vulnerable and at-risk citizens and the wider health and social care needs of our city, and continue to do so, if it wasn't for their person-centred professionalism and tremendous resilience. And of course, we couldn't do this alone. I'd like to extend my thanks to our partners in third and independent sectors for supporting the city's health and social care response.
And with the festive period soon to begin later this month, I'd like to wish you a peaceful and festive one, and hope that you get a chance to have a rest at some point over the period or in the new year.
Susanne