North East Hold Coffee Morning to Support Staff Return to Workplace
Published: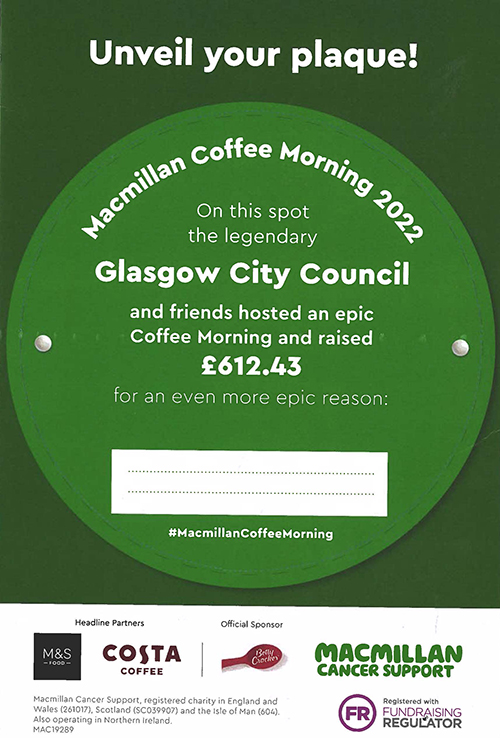 At the start of the COVID-19 Pandemic, a decision was taken that, where possible, staff should work from home to limit the spread of the virus.  
When restrictions were lifted and staff returned to the office on a phased basis, we realised that the restrictions of working from home had a significant impact on staff especially for new staff who had limited opportunities to benefit from the peer support, team working and identity that office-based working promotes.  
As new members of teams returned to the office, we realised that some of these new staff members did not recognise their wider colleagues and due to home working had not been able to build supportive working relationships. 
In recognition of this, our North East Management and Admin team based at Petershill office wanted to organise an event to promote team building, wellness and 'put a name to the face behind the mask'. They organised a Macmillan coffee morning on the 15th September and put a 'shout out for star or fake bakers'.
Along with the plethora of cakes, healthy options of homegrown fruit were also provided. There was also the chance to Win Big via a Raffle and guess the number of 'sprinkles' on Colin the Caterpillar cake. 
All staff who attended said they welcomed the time and opportunity to get to know their colleagues and have started building the much needed supportive relationships.
The North East Management team would like to give a BIG thanks to: 
•    Partick Thistle Football Charitable Trust who provided the venue for free
•    All the staff who helped to organise the event 
•    Jacqui McGoldrick, Head of Older People & Primary Care Services (North East) who poured the teas / coffees on the day
•    The star / fake bakers, and
•    All those who contributed to help us raise an amazing total of £612.43 for MacMillan Cancer Support.