Parkhead Hub: Arts Strategy
Creative Commissions Begin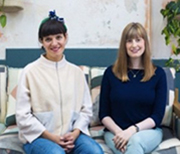 Bespoke Atelier, a design company based in Bridgeton, recently won a two-stage competition to create new artworks for the Hub's entrance and children's area. 
For the entrance area, they will create a large scale, illuminated wall panel which will welcome visitors to the Hub.
The design will celebrate the rich textile and weaving heritage of the local area whilst reflecting the scale and ambition of the new Parkhead Hub itself. 
For the children's area, a feature wall will become a playful and engaging composition of shapes inspired by research into the local area. There will be points of interest and interactivity for children of all heights and ages with patterns and motifs representing places of local interest, ideas and emotions.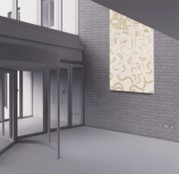 Bespoke Atelier has created artworks for other NHS Greater Glasgow and Clyde healthcare facilities including health centres, specialist wards and hospitals. They have also worked extensively in schools and communities across Glasgow. For Parkhead Hub, the themes and graphics will directly be influenced by the Parkhead community. 
Bespoke Atelier said:
"We are confident we will create a welcoming, eye catching, unique artwork for the entrance of Parkhead Hub. Working with our team of designers, specialist fabricators and structural engineers we will provide an artistic solution with a high-end finish that will withstand the test of time".
 

Creative activity is Full Swing!
A work in progress exhibition is on show at Parkhead's Schoolhouse showing the way in which being active, socially connected and trying new things is great for your health and wellbeing!
Participants in the programme have come from groups linked to Barrowfield Community Centre, Bridgeton Community Learning Centre, Calton Heritage and Learning Centre, Mental Health Network, Parkhead Schoolhouse, Parkhead Youth Project and the Health Walks run by We Are With You.
Martin O'Connor and Mental Health Network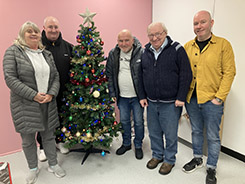 Martin O'Connor, Glasgow based theatre-maker, performer and poet, ran a series of creative writing sessions with the Mental Health Network which finished at the end of January 2023.
For some members of the Network, it was the first time they'd tried their hand at writing and for others, they were able to hone existing skills. For everyone, it was a hugely rewarding and enjoyable experience. 
A publication of the groups collected writings is coming soon and work is also progressing for a creative mural to finish off the office's refurbished reception area.
Ilisa Stack and Barrowfield Community Centre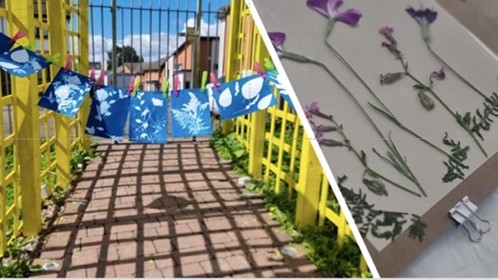 Local artists Ilisa Stack and Rebecca Fraser worked across the wider Parkhead area with local groups on creative workshop activities over summer and autumn 2022.
Ilisa went on photo walks with groups from Barrowfield Community Centre and produced some amazing results including these gorgeous cyanotypes.
Rebecca Fraser at the The Forge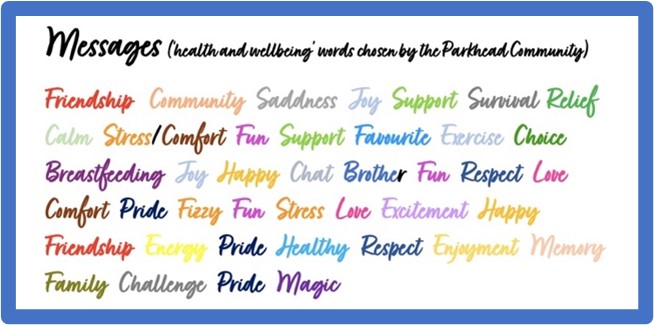 Rebecca Fraser set up a stall at Parkhead Forge with her Today Museum project in September 2022. She started conversations with passers-by asking them about their messages.
Exciting and informative chats were had with all kinds of interesting people about what they had in their shopping bags! 
Rebecca is now regularly in Parkhead Forge and The Charter on Tollcross Road having some Arty Chat! Follow her on Instagram (@parkheadartist).